There was a scholar of the law who stood up to test him and said,
"Teacher, what must I do to inherit eternal life?"
Jesus said to him, "What is written in the law?
How do you read it?"
He said in reply,
"You shall love the Lord, your God,
with all your heart,
with all your being,
with all your strength,
and with all your mind,
and your neighbor as yourself."
He replied to him, "You have answered correctly;
do this and you will live."
As Christians, we are called to love God and our neighbor. The Catholic Church calls this the Great Commandment, for it sums up the entirety of the Mosaic Law. Indeed, the entire Ten Commandments are summed up in these two simple sentences.
But because we are fallen creatures (and, speaking at least for myself, can be a little dense), we need more details. "What do you mean by love God? What do you mean by love my neighbor?" And so the Ten Commandments are given as a basic outline of what we ought to do: our basic requirements. The rest of the Law of the Old Testament is basically elaboration on a lot of this, plus some dietary laws that at the time must have done an awful lot to protect the ancient Israelites from food poisoning. (In case you wonder why we do not still follow these laws, read about Saint Peter's vision that released the early Church from the dietary laws in these passages.)
But even so, we still look for excuses to justify our bad behavior.
But because he wished to justify himself, he said to Jesus,
"And who is my neighbor?"
Jesus replied,
"A man fell victim to robbers
as he went down from Jerusalem to Jericho.
They stripped and beat him and went off leaving him half-dead.
A priest happened to be going down that road,
but when he saw him, he passed by on the opposite side.
Likewise a Levite came to the place,
and when he saw him, he passed by on the opposite side.
But a Samaritan traveler who came upon him
was moved with compassion at the sight.
He approached the victim,
poured oil and wine over his wounds and bandaged them.
Then he lifted him up on his own animal,
took him to an inn, and cared for him.
The next day he took out two silver coins
and gave them to the innkeeper with the instruction,
'Take care of him.
If you spend more than what I have given you,
I shall repay you on my way back.'
Which of these three, in your opinion,
was neighbor to the robbers' victim?"
He answered, "The one who treated him with mercy."
Jesus said to him, "Go and do likewise."
It's difficult to explain how radical this idea was to those faithful Jews who were listening to Jesus teach. The Samaritans, while they shared some ancestry with the rest of Israel, were not "pure" Jews:
The Samaritans were people who lived in what had been the Northern Kingdom of Israel. Samaria, the name of that kingdom's capital, was located between Galilee in the north and Judea in the south. The Samaritans were a racially mixed society with Jewish and pagan ancestry. Although they worshiped Yahweh as did the Jews, their religion was not mainstream Judaism. They accepted only the first five books of the Bible as canonical, and their temple was on Mount Gerazim instead of on Mount Zion in Jerusalem (Jn 4:20).

The Samaritans of Jesus' day were strict monotheists. In some respects they were more strict than Jews about the commands of the Mosaic law, especially the sabbath regulations, but they did not share the Jewish stricture against pronouncing the divine name Yahweh in their oaths.

Because of their imperfect adherence to Judaism and their partly pagan ancestry, the Samaritans were despised by ordinary Jews. Rather than contaminate themselves by passing through Samaritan territory, Jews who were traveling from Judea to Galilee or vice versa would cross over the river Jordan, bypass Samaria by going through Transjordan, and cross over the river again as they neared their destination. The Samaritans also harbored antipathy toward the Jews (Lk 9:52-53).

That the Samaritans were separated from and looked down upon by the Jews makes them important in the New Testament. Jesus indicated a new attitude must be taken toward the Samaritans when he passed through their towns instead of crossing the Jordan to avoid them (Jn 4:4-5), when he spoke with a Samaritan woman, contrary to Jewish custom (Jn 4:9), and when he said a time would come when worshiping in Jerusalem or on Mount Gerazim would not be important (Jn 4:21-24).
Taking this into account, you can see exactly why Jesus used the Samaritan as the example in His parable: our neighbors include the people who we've been taught to hate. Those whose very beliefs are terrible to us. As Our Lord puts it in another sermon of His: we are to love our enemies as ourselves.
In today's world of social networking, it's easy to get caught up in the exact opposite of what Jesus tells us is necessary to inherit the Kingdom. It's easy to get angry and let loose on a politician whose policies you despise. It's easy to lose your temper and just let the tweets fly. But we aren't called to do what's easy – we're called to do what's right.
I realized that I was falling into this trap at one point, throwing barbs at people, mocking them with snide, sarcastic tweets. (Let's face it: I grew up in New Jersey. I speak sarcasm fluently; it might even be my first language.)
I realized I was being hyper-critical about everything, on- and off-line. I had to make a conscious decision to not do so, and to help with that, I started culling my list of follows on Twitter, the place I tended to fall into that habit most often. I started tweeting with a hashtag occasionally (#FindJoy) when I felt like everything was getting too heated. I started taking every Sunday off from Twitter. And I un-followed some prominent people who had been favorites of mine once I realized they were just angry all the time. 
I think it's making a difference in how I see Twitter. And I hope it's making a difference in how I interact with people I disagree with, both online and off.
Yesterday, I noticed a new follower on Twitter with an odd name; it was a play on Thomas Peters' Twitter handle. The entire feed was made to mock his work with the National Organization for Marriage (as well as his work with Catholic Vote). But it went to a new low in the last week.
In case you didn't know, Thomas was involved in a serious accident a little more than a week ago. He nearly died, and is currently in the hospital, where his doctors and medical teams are working to help him overcome what we all hope and pray is a temporary paralysis. His friends and family have set up a blog to help all of his online friends keep up with his progress, and there you can read more about his accident and the treatments he's undergoing. Thomas is a sweet young man, married for only about three months, and while he never stops speaking the truth about Catholic doctrines (and why the Church's teachings are good for everyone, everywhere), he never stoops to angry posts and tweets. His blogging has always been charitable, and I remember long ago when he was blogging at American Papist, back when he was asking for captions for this picture:
So back to this parody account. The new low they hit was mocking Thomas' life-threatening injuries. I won't even repeat the tweets or link to it, but here's what the new bio page looked like yesterday afternoon: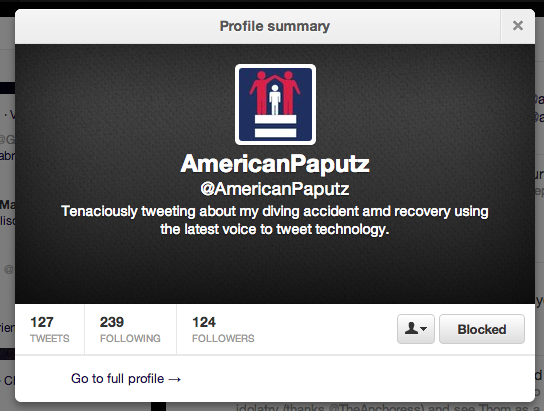 When I asked people to report and block the account, I was met with resistance from pro-gay "marriage" people, none of whom were willing to admit that this was vile behavior. Not one person said, "Well, I don't like Thomas a lot, and I hate what he does, but wow. Who makes fun of a guy who gets that badly hurt?" Not even close. Each and every person who disagreed with the Church on Her teachings about homosexuality (who interacted with me, at least) wanted to justify the behavior of the person running this account.
Now, here's the thing: social networking is great for keeping up with family and friends. It's terrific for "meeting" new people and networking with like-minded individuals or learning new things about a topic from people who know something about it.
But it's also really good for allowing us to forget that behind each avi is an actual person.
For the people who tried to justify that account, Thomas Peters is this:
But the man behind that avi is this:
And this:
And that's true for each and every person you encounter online. Even the ones who are pro-abortion. Even the ones who are pro-gay "marriage."
And God loves each and every one of them as much as He loves you and me.
We aren't called to tolerate people. We're called to love them. To pray for them. To hope to see them in Heaven.
When we're online and interacting with them, we are called to be charitable. Always.
If I speak in human and angelic tongues but do not have love, I am a resounding gong or a clashing cymbal. And if I have the gift of prophecy and comprehend all mysteries and all knowledge; if I have all faith so as to move mountains but do not have love, I am nothing. If I give away everything I own, and if I hand my body over so that I may boast but do not have love, I gain nothing.

Love is patient, love is kind. It is not jealous, [love] is not pompous, it is not inflated, it is not rude, it does not seek its own interests, it is not quick-tempered, it does not brood over injury, it does not rejoice over wrongdoing but rejoices with the truth. It bears all things, believes all things, hopes all things, endures all things.

Love never fails. If there are prophecies, they will be brought to nothing; if tongues, they will cease; if knowledge, it will be brought to nothing. For we know partially and we prophesy partially, but when the perfect comes, the partial will pass away. When I was a child, I used to talk as a child, think as a child, reason as a child; when I became a man, I put aside childish things. At present we see indistinctly, as in a mirror, but then face to face. At present I know partially; then I shall know fully, as I am fully known. So faith, hope, love remain, these three; but the greatest of these is love.
It doesn't matter if you're speaking the truth about unborn children being slaughtered in the womb. If you do so without charity, and you spend your day making fun of people and saying nasty things on Twitter, you're doing it wrong. If you want to defend marriage and try to build a culture of life, but constantly tweet put-downs about your political adversaries, it's worse than doing nothing: you're making things worse.
And if you're doing these things while calling yourself a Christian, you're not acting like a Christian in the least. In fact, to the person you are mocking and deriding publicly, you could be the only face of Christ they ever see.
Think on that for a minute. You, sneering that a TV news host should have smeared feces and urine on her face and yelled, "Hail, Satan!" when discussing the Texas abortion bill, are presenting the face of Christ to someone. You have just lied about Our Lord.
I'm far from perfect here, but I am trying to step away when I know I'm in danger of falling back into this. And I think twice before I hit that send button and put something online that I might regret later.
We aren't called to speak truth to power. We are called to love. 
As my Lovely Nana would say, "If you're about to do something and you hesitate because you have to ask yourself if it's really the right thing to do, it's probably not."
Cum dilectione hominum et odio vitiorum.  –St. Augustine